Who said that lines must be located just above the lash line! After all, it can go up a bit and create a thin flick – type line in the … middle of the eyelid. And it's not that difficult! First try drawing a few dots just above the crease line of your upper eyelid. Start at the level of the pupil and go a little beyond the outer corner, going upwards lightly. Now connect the dots with the tip of your eyeliner and you have a unique design. You can also add a thin line on the lower eyelid, going beyond the contour and pointing upwards.
Another idea is… an unfilled cat eye. Draw a line from 1/3 of the length of the lower and 3/4 of the length of the upper eyelid. Both lines go beyond the outer corner of the eyelid, they clearly rise and merge. However, the gap between them should not be filled in. This gives a slightly graphic look, which is very modern and great for a summer holiday look.
A unique line can be created by outlining the eye almost- all around. Such a design is called the panda smudge. Draw the eyeliner along the upper and lower eyelids starting from the lash line at the inner corner. Accentuate this area clearly by drawing a small arrow. The eyeliner is drawn beyond the outer corner. Add to it a line drawn along the crease of the upper eyelid, first thin and gets thicker towards the outer corner.
Other variations of eyeliner looks include a soft smoke with a bold lower line starting from the middle of the eyelid. Draw a black line as close to the lash line as possible. The line should be thicker at the outer corner and taper towards the nose. Extend the line beyond the outline of the eye, drawing it upwards, it should resemble a classic thin flick style.
Our two NOTE Cosmétique eyeliners differ not only in their pigment level, but also in their applicator tip. NOTE Ultra Black Eyeliner has an ultra-thin, flexible tip, which facilitates application and makes painting a line extremely easy. A concentrated, fast-drying formula that adheres easily to the eyelid, leaving a deep black line with a slightly glossy finish. The eyeliner creates precise and intense black lines in one stroke.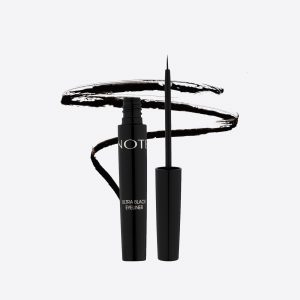 NOTE Ultra Black Dipliner has a contoured, flexible brush that creates a perfectly thin and even line on the eyelid. It allows you to correct the eye contour and give it the desired shape. It's, long-lasting, pigmented formula spreads easily, dries quickly, does not crumble and does not smudge, ensuring an intense black matte finish.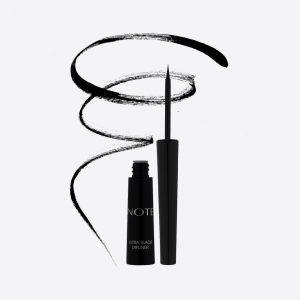 Both products allow easy, precise application in one stroke. They contain sweet almond oil and vitamin E, known for their nourishing properties.