Let's clear the air: finding the right foundation is hell on earth. We know that. You know that. Every person on earth who's ever decided to buy foundation knows it too. It's probably the world's worst kept secret.
Between the overwhelming number of shades, textures, and coverage levels, the hunt for the perfect product that matches your skin and conceals imperfections while looking like, well, skin, is a tricky one. It can make you feel like you need a Phd in 'foundation arts'. Or secret superpowers.
Why is it such a difficult choice to make? Nature's most beautiful gift: our uniqueness. Because, when it comes to foundation, there is no "one size (or here, shade) fits all" – it's all about nuance, about individuality, about you.
So, to make sure that you won't find yourself glowing like a mirror ball, or having your neck and face look disturbingly different from one another – while avoiding the "Snooki" or "Snow White" effect – here is Note Cosmétique's guide to finding the perfect shade based on your undertone.
Understanding undertones
You and your best friend are basically the same person. You have the same tastes, think alike, share everything. Sometimes you say the same thing at the exact same time. But despite having the same skin tone, you probably have different skin undertones. The difference might seem subtle, but it's crucial.
To keep it short and simple:
The skin tone is the unique colour of your skin. As we're sure you know already, it has everything to do with the amount of melanin present in the skin's uppermost layer … Which explains why, depending on the seasons, (and sun exposure) your skin tone changes.
Every skin tone is unique and different with endless possible variations, each as beautiful as the next. (Mother Nature felt inspired on the day she created skintones!).
The skin undertone is the subtle hue underneath the surface. The shade within the colour. An indistinguishable and enduring "je ne sais quoi" that can either make or break your make-up look.
And again (because foundation is all about nuance) there are three main types of skin undertones: cool, neutral and warm.
If your overall complexion has more blue, pink and red hues, then the undertone is classified as "cool". The perfect example of a cool undertone? The iconic Emma Stone. On the other hand, an undertone is called "warm", when gold, peach and yellow are the primary colours… Just like Penelope Cruz.
As for the neutral undertones – like Lupita Nyongo'o, it's a balance between warm and cool.
"Know thyself"
Now that the difference is clear, it's time for you to discover your skin undertone (and who, between Emma Stone, Penelope Cruz and Lupita Nyongo'o, shares a common trait with you).
There are several ways to proceed, but at NOTE Cosmétique, we have our two favourite methods:
The Red Carpet method. Go to your jewellery box(es) – who are we to judge?), and take a piece each of silver and gold jewellery. Place it on your skin and admire yourself in the mirror. Which suits you the best? Is it gold or silver that makes you look like you're about to rock an (imaginary) red-carpet?
If silver looks best on you, then congrats, you and Emma Stone are skin undertone twins! On the contrary, if gold is bringing out your glow, then you have a warm undertone. And if you rock both, then no doubt you have a neutral undertone.
The nurse method. For this one, all you need is you. And your veins. Clench your fist and pay attention to them. Which colours are they?
If they look purplish, your undertone is cool. Bluish? Neutral. Green or olive? Warm.
How to determine the right foundation shade
Once both your skin tone and undertone are determined, the search for the perfect foundation shade narrows down considerably.
For the cool undertones, go straight to the pinkish foundations.
For the warm undertones, you will find your match amongst the subtle yellow and golden shades.
As for the neutral tones, then it is best to go for slightly gold hues to warm up the "green" undertone in your skin.
In the right spot, in front of the right shades? Great! Now, choose some you think could be a good match for you. While in-store, it's best to try them on the inside of your wrist. Ordering online? Check your shade at home by trying out a small amount on your chest just below the neck, where the skin most closely matches facial skin tone. How does it look? If it seems to fit your skin, you can proceed to phase 2 of the trial: your face.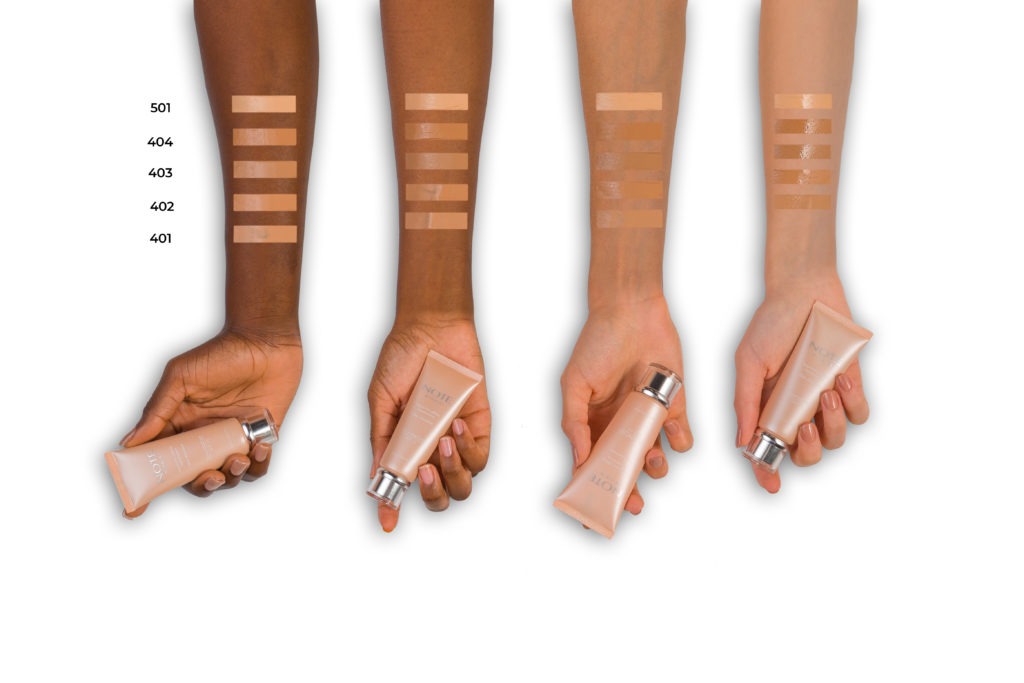 Swipe the remaining candidates for the prize of perfect foundation shade on your jawline (and make sure to keep some space in between each). The winner should be the foundation that blends seamlessly with both your face and your neck.
NOTE's (not so) secret tips: if your skin colours tend to change a lot during seasons, make sure to buy two shades foundations: one that matches your skin at its lightest, and one that matches it at its darkest. And for in-between seasons, you can always mix them together! 😉
Congrats, you are now an expert when it comes to finding the right foundation shade. You can put all this hard-learned knowledge into practice right now with NOTE's foundation range. Ready, set, go….